King West Photo Tour
Trevor Shaw comes in from the suburbs to see what makes King West tick.
By Trey Shaughnessy
Published April 14, 2005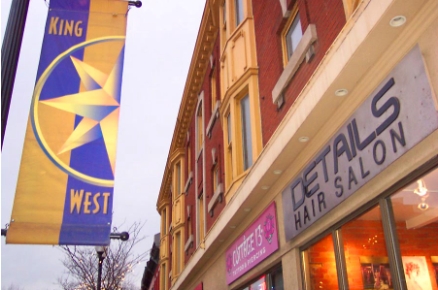 King Street West Tour
King Street West in Hamilton is a microcosm of eclectic consignment shops, restaurants, gift stores, coffee shops, restaurant supplies, even a spa and tattoo palour. The King Street West shopping area is between Bay and Queen, a short stretch but nontheless exciting and interesting.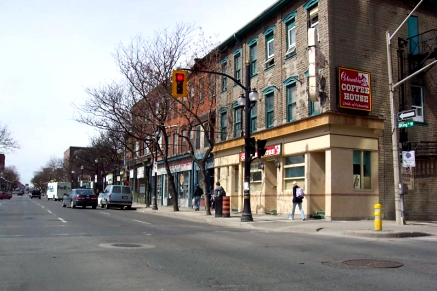 The north side of King W. features an elegant street wall
In its favour, King W. is anchored by Hess Village and Jackson Square. The merchants tend to keep good hours. Most are open until 9 pm and I have seen them open later. The shops compliment the Hess Village pubs well.
The restaurants are fanstastic. Kasturi serves exceptional Indian food. If you like super hot food, try the Banaglore style.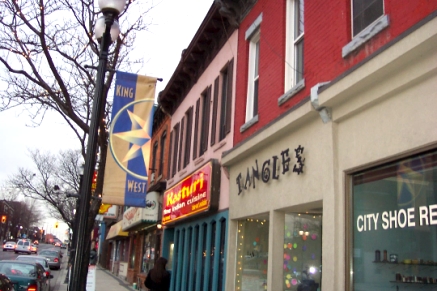 Kasturi Indian Restaurant
At King and Queen is the ever-fantastic La Luna, featuring authentic Arabic and Eastern Mediterrean dishes and outstanding service in a very nice décor that makes it also one of my favourite place to eat in all of Hamilton.
The landmark Harvest Burger looks like it was an old fashioned "drive-in," with the canopy for cars where waitresses on roller skates would take your order. Unfortunately, they don't do this anymore. However, Harvest Burger makes the one of the best souvlaki and gyros in town.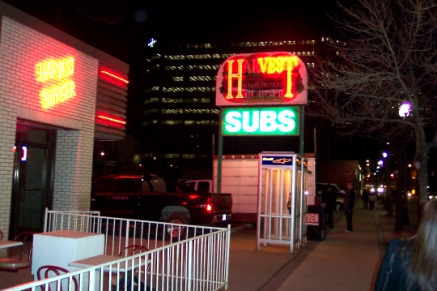 Harvest Burger recalls the glory days of Drive-In burger stands
A new coffee shop, Columbia Coffee House, is set to open soon at Bay St.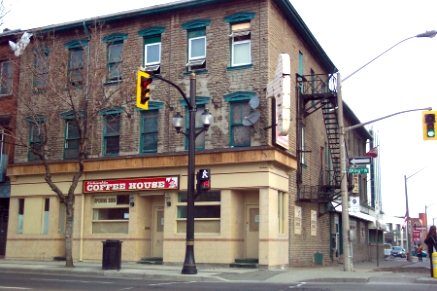 King and Bay, new coffee house opening soon
You also have to check out the two restaurant supply outlets, Chris' Store Fixtures and Hamilton Restaurant Supplies. These stores always impress me with their supply of stainless steel utencils and commercial kitchen appliances. If you've always wondered where the restaurants get their cool salt and pepper shakers, visit one of these stores.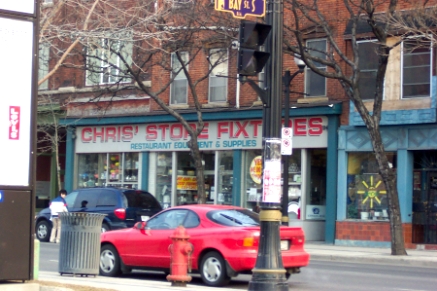 Chris's Store Fixtures
Star Lounge is another cool place to hang. In the summer it opens the front "garage door" to the street. A live music venue at Reigning Sound adds to the many venues located in Hess Village.

Star Lounge
My favourite shops happen to be the cool consignment/second hand shops. Some feature new clothes like Metro. Metro looks like it belongs on Queen West in Toronto; inside and out this store ooozes cool. The clothing is all new and features urban and anti-Old Navy fashions. It also has fun gifts and accessories.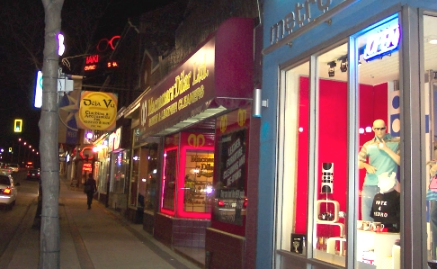 Metro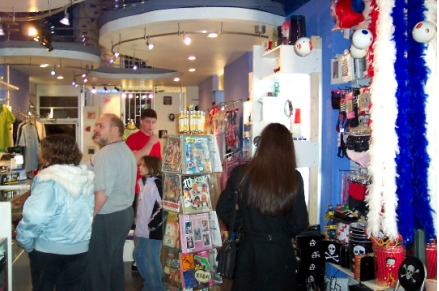 Metro
Déjà vu is another very cool shop. The clothing is used and new and ranges from suits to graphic t-shirts.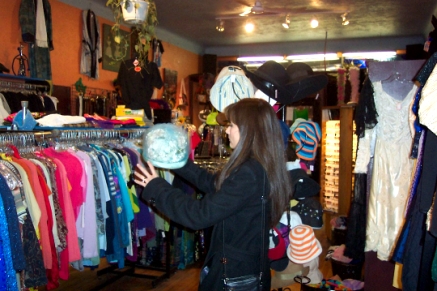 Déjà vu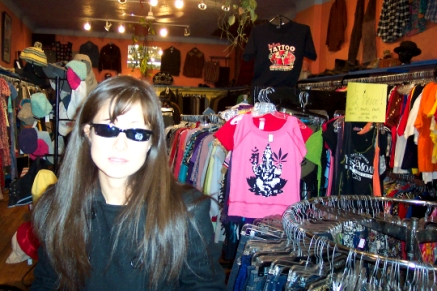 Déjà vu
King West is a gem of stretch of retail in Hamilton. According to Louis, shop-owner of Déjà vu since 1983, the area has experienced ups and downs, but it seems to be enjoying a renaissance lately.
I only wish the south side of King wasn't stripped of its streetwall. It is a sad sight. Chain-link fencing around a vacant used car lot, a crappy strip mall, and a Tim Horton's parking lot make the south side barely walkable. Hopefully the south side of King West can be re-built to match the north side.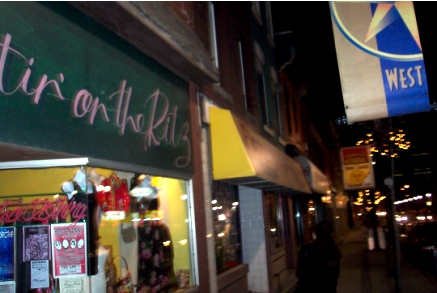 Puttin' On the Ritz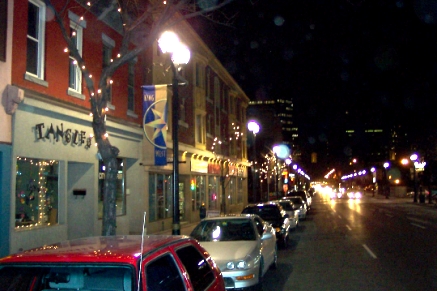 A sense of place on King W.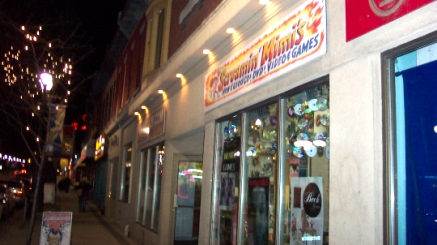 Screamin' Mimis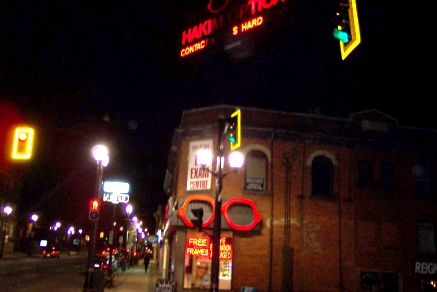 Keeping Watch at King and Caroline
Post a Comment
You must be logged in to comment.