The Birks Building
Hamilton still hasn't learned the lesson from its denial of its own history.
By Ryan McGreal
Published April 04, 2005
Oscar Wilde called it "the most beautiful building in all of North America," but that didn't stop Hamilton City Council from voting to demolish the historic Birks Building in 1973, despite public protest. (Thanks to Trevor Shaw for digging up this quote.)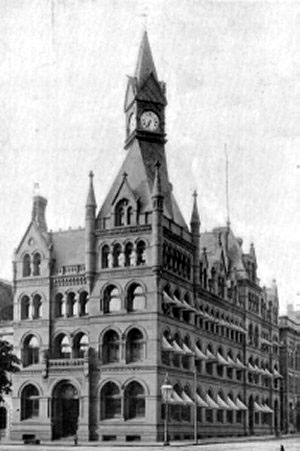 The Historic Birks Building at King and James
The City Council of the 1960s and '70s was determined to cut all the 'Victorian rot' out of the city and replace it with futuristic architecture, apparently anticipating the day when we all dressed in silver jumpsuits and took our personal helicopters from our condos hovering above the Bay to our office towers in Toronto.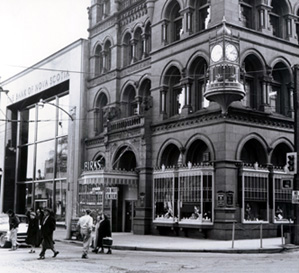 We destroyed this for what?
We've come a long way since then, haven't we?
City Council's abandonment of the Tivoli Theatre suggests we haven't come as far as we'd like to think. The beautiful facade is already destroyed, collapsed under the weight of neglect, but the theatre itself can still be preserved.
Give the city credit for trying to drum up interest among investors. It would have been a much easier sell, say, two years ago, when the exterior was still standing. Today, we must do what we can with what we have.
Correction:This article originally stated that the Birks Building was demolished to make room for Jackson Square. A number of readers were kind enough to point out that the Birks Building was actually on the other corner. Raise the Hammer regrets the error - Ed.
Post a Comment
You must be logged in to comment.