Braving the Tunnel
Good streets aren't created by fiat, but given fertile conditions, good streets can be 'grown' over time. If we make the necessary changes, Main Street may still bear fruit.
By Ryan McGreal
Published January 14, 2005
Not three feet from where I'm standing, cars and trucks roar past at 60 km/h on a five-lane thoroughfare. Every time a truck passes, its slipstream yanks at me with greedy fingers.
It's lunchtime on a weekday, but the sidewalk is desolate. A young man pushes a child in an umbrella stroller. Two sullen teens wait, smoking, by a bus stop. A woman in a business suit leaves an office building and rushes down a side street. Everyone is obviously eager to go someplace else.
No wonder. There's no place here worth going to.
Silent towers heave out of the concrete, betraying no activity within. An old financial building with a majestic Greek Revival façade sits mostly empty, street-level windows adorned with "For Lease" signs. A parking lot stretches out to my right.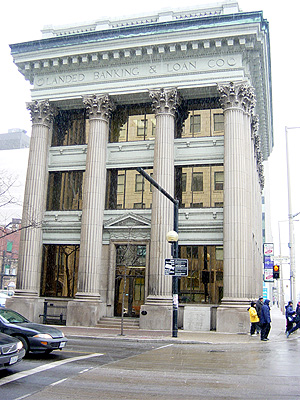 A beautiful old financial building sits mostly empty, its exterior adorned with surveillance camera warnings and For Rent signs. (Photo Credit: Ryan McGreal)
I've been walking for several minutes, and haven't passed a single shop, restaurant or cafe. Even a convenience store would be, well, convenient. The only thing this place offers is a possible collision with one of the speeding cars.
Welcome to Main Street, Hamilton.
I decided to walk East from Hess Street in order to get a feel for the place. I've been along this stretch hundreds of times, but I've never really taken a close look before.
It's not pretty. Barren parking lots swallow whole city blocks and blank skyscrapers tower on either side of the street.
Walking down a pedestrian-friendly avenue, with graceful architecture and overarching trees, feels like walking through an ornately decorated hall. Main Street, with its featureless walls and the endless drone of traffic, feels more like a tunnel.
Hamilton Place, the Convention Centre, and the Art Gallery may be world-class venues, but from the sidewalk, the complex that houses them is bulky and forbidding. The whole structure turns inward on itself, opening into a narrow lane that runs right through the building, as if the place is ashamed of its surroundings.
This is typical of postwar megaprojects that tried to "renew" downtown with gee-whiz conglomerations promising to lift people magically from the drudgery of exhaust-choked streets. They just didn't understand what city people really want: to reclaim the streets for human uses.
These megaprojects, designed to encapsulate public space inside big complexes, were supposed to drive business back downtown, but they failed spectacularly, precisely because they tried to coax city dwellers and visitors off the streets.
Instead of spurring revitalization in adjacent properties, the megaprojects only accelerated their decline, by undermining the public character of the streets themselves and driving pedestrians away.
(Aside: It's encouraging to see that the Art Gallery renovations will result in a building that opens onto King Street.)
So I find myself walking toward James Street, choking on exhaust. An overhead sign reads "Office Space Available."
Up ahead on the right is the boxy McMaster Downtown Centre for Continuing Education, a converted courthouse donated by the city to help revitalize downtown. It looks strangely out of place here, a cartoonish campus building plonked down on the shoulder of a subterranean freeway.
Six blocks into my walk, I finally encounter a restaurant, though it's clearly part of the continuum that runs along John Street, which crosses Main here. On the right, set back from the sidewalk across more parking, are a gas station and a strip plaza. Opposite the plaza is another a parking lot and the wall of a hotel that opens onto a side street.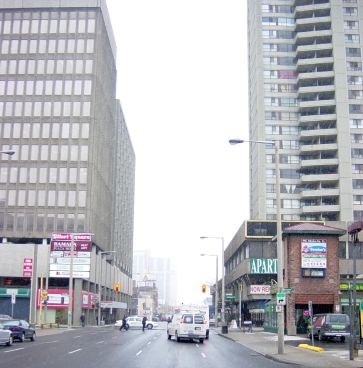 Main Street: not for the claustrophobic. (Photo Credit: Ryan McGreal)
Soon I'm back in the 'tunnel,' surrounded on either side by blank towers. Inside the tower on the left is a sort of glorified strip mall. Several units are vacant. Small knots of people stand just inside the doors, wringing their hands. No one's shopping. In fact, the phone booth seems to be drawing more business than the stores.
The other side of the street is substantially the same. As a single consolation, a line of illegally parallel-parked cars offers a rare buffer between me and the traffic.
I could go on but it's all the same: a parking lot, a vacant office, an empty brownfield, a parking lot, a drab office box, an empty building, another parking lot. And all the while, cars and trucks continue to roar by.
Ultimately, Main Street functions as the eastbound lane of a de facto highway that cuts through the heart of the city. It will remain ugly and inhospitable as long as the road caters exclusively to motorists.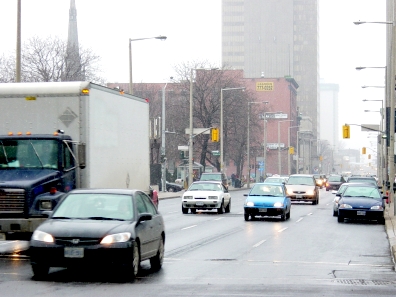 Cars feel very welcome on Main St. (Photo Credit: Ryan McGreal)
Nearly four decades into Hamilton's "renewal", our city's public space is diminished by roads that exist strictly to move automobiles, huge buildings that offer only blank walls to pedestrians, and a strict separation of use, so that people cannot live, work, and shop in the same places.
Pedestrians stay away from the core because it's noisy and dangerous. Businesses stay away because there aren't any people. The resulting wasteland further discourages pedestrians. It's a vicious cycle.
In spite of this, pockets of local vibrancy have survived and even thrived, by retaining the classic attributes of street life, mixed use, and pedestrian-friendly layout. Right now, these pockets are separated from one another by dreary stretches of postwar planning, but it is possible to knit them back together.
We can make Main Street two-way and allow parallel parking. We can install benches and trash/recycling cans, build covered bus shelters, and establish incentives for businesses to set up shop at street level accessed directly from the sidewalk, with offices and apartments on upper floors.
Softening the environment would also help to integrate Hamilton Place and the McMaster Downtown Centre into their surroundings. They could become anchors that hold the area together.
Good streets aren't created by fiat, but given fertile conditions, good streets can be 'grown' over time. If we make the necessary changes, Main Street may still bear fruit.
Post a Comment
You must be logged in to comment.