City Opens Gate Blocking Chedoke Path
It goes a long way to building and reinforcing trust with the community when councillors and staff are responsive to feedback and make the necessary changes to fix problems and improve our civic infrastructure.
By Ryan McGreal
Published December 11, 2017
Local government has the most immediate, direct impact on your life. You literally can't walk out your door without interacting with your municipality: the sidewalks, streets, paths and other civic amenities are the connective tissues that hold the city together, and the way those connective tissues are designed, built and maintained shapes how people live their day-to-day lives to an extraordinary degree.
Building a great city is about getting the big policy and investment decisions right, of course, but it also requires getting it right on thousands of small, individual decisions. And when it gets something wrong, as inevitably happens, city leaders need the flexibility add responsiveness to listen, review and course-correct if necessary.
This is a good news story about a minor issue. It may not be so important by itself, but even a single weft in the rich tapestry of civic fabric can, if left unaddressed, reinforce the perception that people don't matter. Thankfully, this story has a more hopeful ending.
Double Gates Block Path
A couple of weeks ago, on a shopping errand into the west end of the city, I came across a newly-installed double gate blocking the multi-use path across the north end of Chedoke Golf Course between the west end of Glenside Avenue and the north end of Studholme Road at Aberdeen.

Double gates blocking the Chedoke path at Studholme and Aberdeen
The gates completely blocked the path. The only way I could get through on my bike was to dismount, turn my bike sideways and walk it between the gates. If I had a child or cargo trailer, I would not have gotten through at all.
And forget about fitting a wheelchair or mobility device through the narrow gap. Forcing cyclists to dismount and walk just to get past a gate is annoying and needless, but blocking equal accessibility is a significant human rights issue.
It was not clear why this particular road crossing should be treated differently than every other road crossing the Rail Trail makes between west Hamilton and Brantford.
Most crossings through Ainslie Wood have a single gate that blocks automobiles from using the trail and encourages people on foot and on bikes to slow down before proceeding across the street.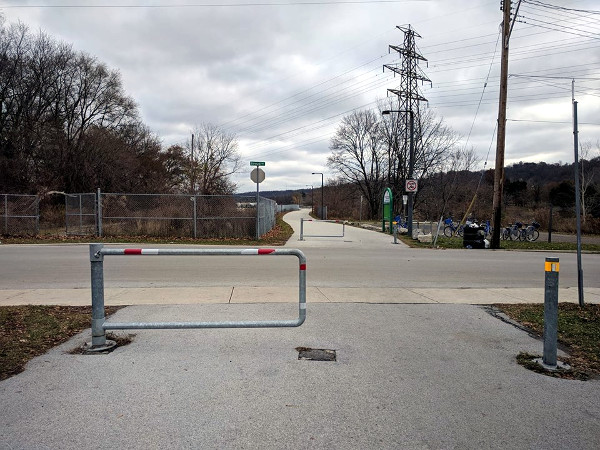 Rail Trail road crossing at Stroud - single gates
In fact, the Rail Trail picks up right at the other end of Studholme, literally just 600 metres to the west, and has a single gate.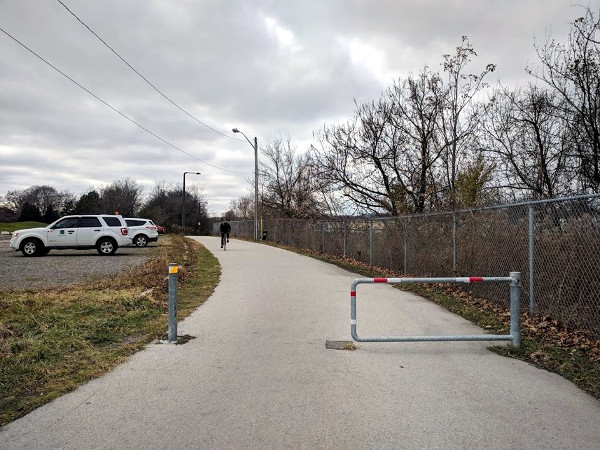 Rail Trail at the other end of Studholme - single gate
So when I encountered this double gate that completely blocked the path, and being a (more or less) typical human being, I circumvented this arbitrary barrier by riding around the gate on the grass.
It seems I wasn't the only person who responded this way. This past Saturday, after just two weeks, there was already a noticeable desire path worn into the grass from people going around the gate.

Life, uh, finds a way. Desire path immediately appears around gate
Quick Response from City
After I posted something about the gate on social media, Ward 1 Councillor Aidan Johnson reached out and asked me to contact him with more details about the issue. I sent him an email and he contacted the Public Works Department to investigate.
Parks Superintendent Steve Hasselman responded that the double gate was installed as a safety measure to deter cyclists from proceeding into the intersection of Studholme and Aberdeen without first stopping, but that he would visit the site and review it in person. He noted, "The space between the swing gates is supposed to be wide enough to allow wheelchair and bicycle access."
Amazingly, Hasselman responded again on Sunday morning to report that he had already visited the site and that the gates were indeed too close together. "I went to inspect the site this morning and found that the concerns surrounding these gates are in fact correct and that there is not nearly enough clearance between them. There is supposed to be a minimum of 5 feet between the gates to allow easy navigation."
While noting that he would follow up with the contractor who installed the gates, Hasselman also opened one of the gates as an intermim measure to restore access along the path.

City staff opened one of the gates early Sunday morning
It does make sense at a location like this to install staggered double gates that act as chicanes to slow bike traffic while still allowing bikes to proceed. Indeed, some other crossings along the Rail Trail do this and it works well.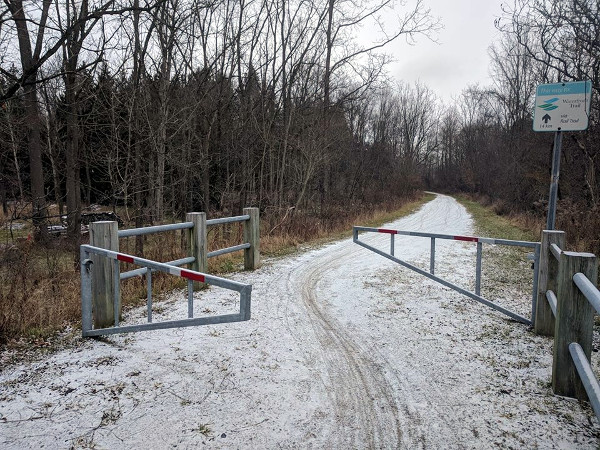 Staggered double gate to slow bike traffic on Rail Trail at Mineral Springs road crossing
So a big thanks to Councillor Johnson, who quickly followed up on this issue, and especially to Hasselman, who went above the call of duty to visit the site early on Sunday morning and open the gate.
Again, it's impossible for the City to get it right every time, but it goes a long way to building and reinforcing trust with the community when councillors and staff are responsive to feedback and make the necessary changes to fix problems and improve the civic infrastructure on which we all rely for our daily quality of life.
Post a Comment
You must be logged in to comment.