City Crackdown on Tactical Urbanism
A memo by Public Works general manager Gerry Davis calls calls acts of tactical urbanism 'illegal, potentially unsafe' and 'vandalism'.
By Ryan McGreal
Published May 09, 2013
this article has been updated
Public Works General Manager Gerry Davis sent a memo on May 7, 2013 to Council warning about "unauthorized activities on our city streets" related to the recent workshop and public lecture on tactical urbanism.
According to Mike Lydon, a principal at The Street Plans Collaborative and author of the Tactical Urbanism e-book, tactical urbanism is the principle that citizens can undertake direct low-cost, high-reward actions that immediately improve some aspect of a community's public life and demonstrate to city leaders that there are opportunities for easy, successful changes to the status quo.
Lydon emphasized that the essence of tactical urbanism is to take short-term action that precipitates long-term change and are informed by vision, local context, agility, value, and community engagement. He noted that most cities welcome tactical urbanism and are inspired by demonstrations of change to invest in more permanent transformations informed by the lessons learned.
'Illegal, Potentially Unsafe'
However, the City of Hamilton does not appear to see it that way. In Davis' memo, he warns:
These changes to City streets are illegal, potentially unsafe and adding to the City's costs of maintenance and repair. The City can consider this as vandalism, with the potential for serious health and safety consequences for citizens, particularly pedestrians. There is potential liability and risk management claims to both the City and the individuals involved.
Of course, left unmentioned is the ongoing danger to individuals and liability to the city from Hamilton's status quo of pedestrian- and cyclist-unfriendly automobile oriented streets, a shameful legacy that has continued unimpeded for decades despite the overwhelming weight of evidence, expert testimonial, and even official policy.
If citizens are taking street design into their own hands, it is out of extreme frustration with the failure, year after year after year, of city leaders on Council and in senior management, to make the necessary changes themselves.
City workers have already removed the painted crosswalk at Cannon and Mary and the bumpout pylons that were installed at the corner of Herkimer and Locke to make pedestrian crossings there safer and more comfortable.

Guerilla Bumpouts at Herkimer and Locke before they were removed (RTH file photo)
On Friday I asked the long-time crossing guard what she thought of the project. With immediate enthusiasm, she said, "I like it!" The guard did not know who had installed the cones or why, but she was highly supportive, saying it makes the corner a lot safer.
The traffic calming "really controls the traffic. It was getting scary," she said, noting that the bumpouts forced the cars to slow down instead of racing aggressively through the intersection.
Institutional Obstruction
If Davis is serious about being "willing to work cooperatively with citizens and citizen groups to address their traffic concerns and suggested improvements," he can start by directing his staff to replace the bumpouts at Herkimer and Locke.
Of course, this is the same traffic department that delayed the installation of a crosswalk at the nearby intersection of Aberdeen and Kent for years because, as they argued, it was simultaneously too dangerous for pedestrians to cross and safe enough that it did not warrant a crosswalk.
When the crosswalk was finally installed after years of advocacy, a petition with hundreds of signatures, a presentation to the Public Works Committee and another delay of more than a year before it was installed over a period of three months, it was programmed to provide "minimum service level to pedestrians".
The button-activated crosswalk routinely waited between 40 seconds and nearly two minutes before changing the traffic signals, and another city traffic engineer eventually acknowledged that the crosswalk had been designed explicitly to be as non-useful to pedestrians as possible.
To his credit, he had the crosswalk reprogrammed to that it now works properly, but there is no reason why the traffic department should have been so persistently hostile to a crosswalk in an urban residential neighbourhood in the first place.
This was in an affluent neighbourhood in which several highly educated volunteers were willing and able to undertake an extended campaign of organizing and advocacy. How many other simple, basic features of civic infrastructure have not been built and will not be built because the community resources to force the City to act are missing?
The Symptom, Not the Problem
Tactical urbanism is not the problem here. It is the symptom of a deeper problem in which the city's stated commitment to citizen engagement, innovation, diverse economic opportunities and being "the best place to raise a child" are not really governing principles but are only words on paper.
In an essay I published earlier today, I included the following graphic of the circle of tactical urbanism from Lydon's talk with the cheeky subtext, "in Hamilton, this is a U-shape".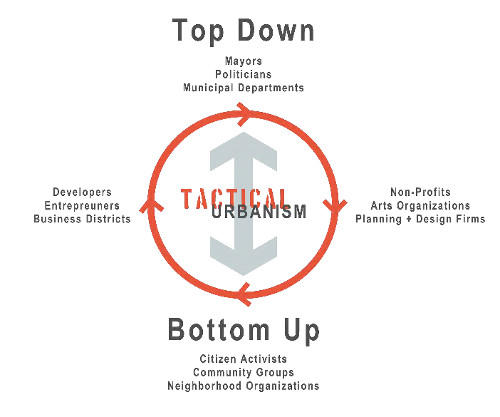 The circle tactical urbanism
Little did I know just how quickly my cheeky remark would be proven correct.
Despite two decades of plans and policies dating back to Vision 2020, despite mountains of evidence from other cities, despite being told by literally dozens of urban planning experts what we need to do, our leaders remain implacably opposed to the most basic transformations that would make our streets tamer, safer, more equitable and more successful for everyone.
Text of the Memo
Here is the full text of the memo:
Hamilton Information Update
TO: Mayor R. Bratina, Members of City Council
WARD(S) AFFECTED: CITY WIDE
DATE: May 7, 2013
SUBJECT: Tactical Urbanism
SUBMITTED BY: Gerry Davis, CMA
General Manager
Public Works Department

Since yesterday, Traffic Operations staff has noticed the following unauthorized activities on our city streets:

Traffic signage posted at Upper James and Mohawk Road
Crosswalk painted at Mary and Cannon Streets
Applied tape to mark a crosswalk at Cannon and Elgin Streets
Screwed down pylons to simulate a corner bump out at Herkimer and Locke Streets.

These changes to City streets are illegal, potentially unsafe and adding to the City's costs of maintenance and repair. The City can consider this as vandalism, with the potential for serious health and safety consequences for citizens, particularly pedestrians.

There is potential liability and risk management claims to both the City and the individuals involved. Examples of potential liability to the City could include claims from individuals who may be negatively affected by one of these installations. (i.e. trip and fall claims, paint damage claims etc.)

Traffic Operations staff are immediately repairing and/or removing the work that has been noted and are tracking the costs of these activities. Staff has also filed a report on this issue with the Hamilton Police Department.

Public Works staff is willing to work cooperatively with citizens and citizen groups to address their traffic concerns and suggested improvements, but these unauthorized activities present serious health, safety and liability concerns for the Corporation.

As some members of Council are aware, staff are currently preparing a report updating the status of the Transportation Master Plan and are also working on a report that will review policies related to traffic calming and pedestrian crossing treatments.

We are also actively working with the North End Traffic Management Implementation team to implement a five year pilot program for the North End Neighborhood, which will model opportunities for the use of innovative traffic calming measures, pedestrian crossing improvements and speed limit reductions.

You may have also noticed this article in the Hamilton Spectator last week about various City's experiences with 'Tactical Urbanism", which appears to be an activity similar to what Hamilton is now experiencing.

http://www.thespec.com/news-story/2 550515-mahoney-how-active-imaginations-are-reinventing-hamilton/

If you have any questions about this issue, please feel free to contact Geoff Lupton at [...].

Copy to:

Chris Murray, City Manager and Members of Senior Management Team
Janice Atwood-Petkovski, City Solicitor
Ron Sabo, Assistant City Solicitor
Rose Caterini, City Clerk
Andy Grozelle, Legislative Coordinator
John McLennan, Manager of Risk Management
John Mater, Director of Corporate Assets & Strategic Planning
Gary Moore, Director of Engineering Services
Craig Murdoch, Director of Environmental Services
Dan McKinnon, Director of Hamilton Water
Bryan Shynal, Director of Operations
Don Hull, Director of Transportation
Kelly Anderson, Public Affairs Coordinator, Public Works
Bonus feature: the footer for each page includes the following:
OUR Vision: To be the best place in Canada to raise a child, promote innovation, engage citizens and provide diverse economic opportunities.

OUR Mission: WE provide quality public service that contribute to a healthy, safe and prosperous community, in a sustainable manner.

OUR Values: Accountability, Cost Consciousness, Equity, Excellence, Honesty, Innovation, Leadership, Respect and Teamwork.
---
Update: The Hamilton-Burlington Society of Architects (HBSA), who organized the tactical urbanism workshop and public lecture, have sent a response to Council to try and explain what tactical urbanism is and why the City should not be afraid of it.
The letter argues that tactical urbanism "holds great promise" and "need not be seen as an adversarial relationship between the City and the citizens."
Specifically, Tactical Urbanism takes the approach that short term action can lead to long term change while building social capital between neighbours, neighbourhoods, local associations, organizations, and City staff and Councillors.
It also notes that the traffic plans Davis mentioned in his memo date have been on the books for several years but have no implementation details. In contrast, tactical urbanism is "about doing."
Here is the text of the HBSA letter:
May 8, 2013

Dear Council -

We, the Hamilton Burlington Society of Architects Architecture, organizers of the Tactical Urbanism lecture that occurred on May 2nd to kick off Doors Open Hamilton, we would like to respond to the Information Update Memo prepared by City staff in regard to the recent Tactical Urbanism events around the City.

Our event, which was very well attended, presented Mike Lydon of the Street Plans Collaborative in Brooklyn, New York. His publication about Tactical Urbanism is available free on his website - streetplans.org. We are excited that citizens of our city have taken it upon themselves to try to make the city a better place.

Tactical Urbanism holds great promise in the City and need not be seen as an adversarial relationship between the City and the citizens.

What these actions have made clear is that a concentrated effort by a few people can bring positive change to the City.

The memo regarding Tactical Urbanism prepared by City staff notes a few items that are currently in progress in the City, namely "the North End Traffic Management Implementation team" and the "Transportation Master Plan". We would like to point out that the North End Traffic initiative has been in the works since 2006.

Also, while the Transportation Master Plan contains hundreds of pages, we have so far been unable to find those sections that deal with how the City will physically achieve the goal of improving the pedestrian experience.

In stark contrast to these programs, a few concern citizens have made significant improvements to their city in just a few days.

A crossing guard at the Herkimer and Locke intersection was quoted on Raise the Hammer today.

On Friday [RTH] asked the long-time crossing guard what she thought of the project. With immediate enthusiasm, she said, "I like it!" The guard did not know who had installed the cones or why, but she was highly supportive, saying it makes the corner a lot safer.

The traffic calming "really controls the traffic. It was getting scary," she said, noting that the bumpouts force the cars to slow down instead of racing aggressively through the intersection.

The ideas around Tactical Urbanism are not only about spontaneous actions on the streets. The ideas and methods are part of a philosophy that can be incorporated into the way that the City does business. Specifically, Tactical Urbanism takes the approach that short term action can lead to long term change while building social capital between neighbours, neighbourhoods, local associations, organizations, and City staff and Councillors.

Perhaps the most important part of Tactical Urbanism, however, is that it is about doing. We would welcome any opportunity to sit down with interested Councilors and staff to discuss how Tactical Urbanism can improve our City.

A hard copy of this letter along with a copy of Tactical Urbanism Volume 2 by the Street Plans Collaborative will be delivered to the offices of all council members tomorrow.

Best regards,

The Hamilton Burlington Society of Architects
Post a Comment