Clit Wit! A Feminist Rude Awakening / Shoddy Feminist
By Bryan Boodhoo
Published August 06, 2019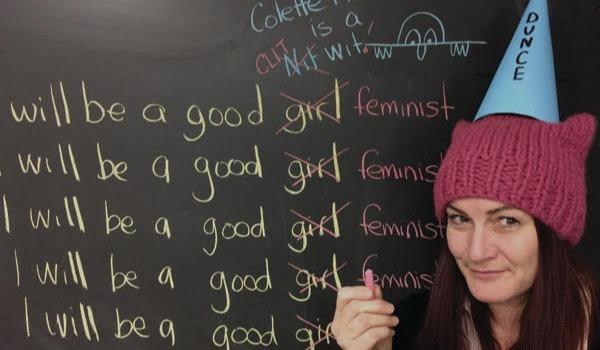 Cast: Colette Kendall
Performer/Playwright: Colette Kendall
Show Type: Comedy
Audience: Parental Guidance
Running Time: 60 minutes
If you've never seen a show by Colette Kendall, the steady hand behind the Staircase Theatre, among other things, you may be in for quite a shock. There are graphic descriptions of sex, and not just regular sex - it's pretty inventive intercourse, on the raunchy scale close to John Waters, Sky Gilbert or Margaret Cho.
But really, did you expect to bring your children to a show called "Clit Wit!"?
Kendall is a master storyteller, who has developed her comic timing by countless shows on the fringe circuit and beyond. Her experience shows and she's able to keep the pace moving along very well. She uses multimedia very well. It never feels like a power point presentation, but rather the screen is used to enhance the acting, and probably give Kendall a few seconds of rest in-between scenes.
There's more to the show than just being funny. Kendall connects to her childhood and what it was like to grow up as a white female in Ontario. And, yes, she acknowledges both her disadvantage as a female and her privilege compared to other marginalized groups.
I was most impressed by the way Kendall balances a lot of different forces, thoughts about gender, comedy, and personal history, just to name a few. This is not an easy task, and it's well done. With fringe over, you've missed your opportunity to find this show at the festival, but if it's anything like her previous shows, then you should keep an eye out for it when it comes back.
Post a Comment
You must be logged in to comment.