LAST FOLIO: Yuri Dojc Exhibition at the Art Gallery of Hamilton
Dojc's beautifully composed images bear witness to a near forgotten episode in human history: the expulsion and execution of Jews from Slovakia during the Second World War.
By Margaret Lindsay Holton
Published February 03, 2017
As screen grabs and sound bites pummel the continuity of time itself, and when populist big-mouths overwhelm quiet conversation and pensive thought, photographer Yuri Dojc has taken a bold stand against all "alternative fact" creators, by assembling a riveting collection of tell-all photographs.
His beautifully composed images, exhibited in Last Folio, bear witness to a near forgotten episode in human history: the expulsion and execution of Jews from Slovakia during the Second World War.
These stunning works deliver a psychic punch.
Resonating to some degree with the contemporary photographic voyeurism of urban explorers, Dojc's images quickly seduce with their intimate, breathtaking and earth-tone elegance. We fall into a vanished world where his photographic eye delivers a kind of visual tough love.
Focusing on primarily three locations - a Jewish school hastily abandoned in Bardejov in 1942, a decaying synagogue and a cemetery without caretakers - Dojc's eye pulls us in to an uncomfortable communal memory where avowed Christian believers, in collaboration with their German allies, forcibly ejected Jews from their homes, places of worship and their familiar countryside.
We see books in Hebrew abandoned on school desk tops. These silent folios are all that remain of a once thriving local Judaic culture.
Accompanying this poignant photographic essay is a powerful feature length documentary film by Katya Krausova, a television producer who emigrated to Great Britain from Czechoslovakia after Russia invaded her homeland in 1968.
In the making of the documentary, she travelled with Dojc through a contemporary Slovakia looking for remnants of their lost relatives. Their personal journey of discovery is amplified by touching interviews with Holocaust survivors from other villages.
Clear-minded elders, recounting memories of childhood, recall the brutal evacuation of their family members to concentration-death camps.
In the accompanying program note, Krausova writes that the documentary filming of Dojc ended when they stumbled on a prayer book that once belonged to his grandfather.
Photographer, Artist, Witness
Yuri Dojc describes himself as a photographer, artist and witness. His eye has:
pivoted from an established commercial photography practice to his current gaze as an artful observer of the vestiges of history's most vulnerable.

In 1968, as Russian tanks were rolling into his native Czechoslovakia, the young student, summering in London, became, abruptly, a "refugee." Soon, that status shifted again to "immigrant", as he made his way to Canada.
He has lived in Toronto now, for decades.
At the onset of the documentary, Dojc somewhat abashedly reveals that he knew very little about Judaism or even the roots of his family's history. With the discovery of his grandfather's prayer book, his personal pilgrimage came to an end. But it was only the beginning of his public show-and-tell of the much larger human story of a forgotten people.
Last Folio has travelled widely, and we are lucky to have it here. Tufts University hosted an hour-long panel discussion that delved further into the 'architecture of memory'. Both Dojc and Katya Krausova speak. It's worth a listen.
Of note, recently head shots of concentration-death camp guards were released, and published, on the UK-based newspaper website, The Sun. On the face of it, many look like very ordinary men who lived very ordinary lives before they enlisted or got recruited.
Today, we know that these ordinary men became deeply radicalized against their former neighbours, the Jews of Slovakia.
Dojc's sombre photographs of abandoned relics of a bygone era still speak to us. And it is right that they should. Complacency about any form of genocide is not acceptable.
His next photographic series, North is Freedom: The Legacy of the Underground Railroad has just opened at the National Capital Commission in Ottawa, sponsored by the Embassy of The United States of America.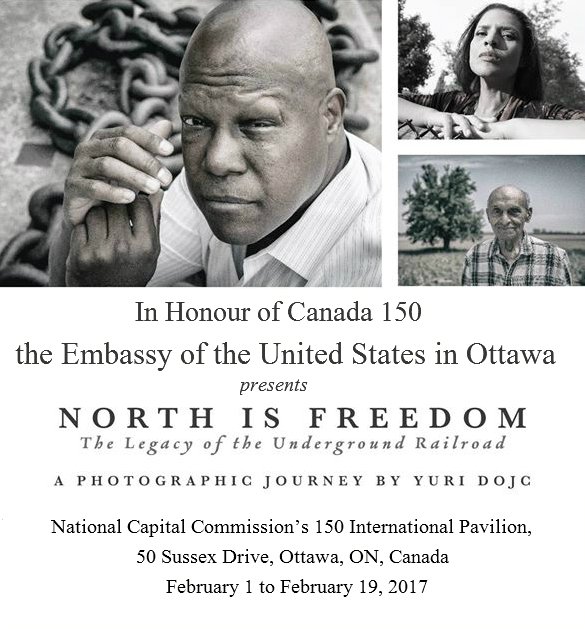 North is Freedom poster (Image Credit: Twitter/Yuri Dojc)
Yuri Dojc continues to document our most vulnerable memories.
His pictures are powerful. They tell a thousand words.
---
THE LAST FOLIO: Yuri Dojc. Now showing at The Art Gallery of Hamilton until May 15.
Post a Comment
You must be logged in to comment.