He Named Me Malala and the Art Gallery of Hamilton's ilovefilmseries
With community partner South Asian Heritage Association of Hamilton and Region, the Art Gallery of Hamilton presented another impressive documentary at Jackson Square.
By Jonathan Lambert
Published December 11, 2015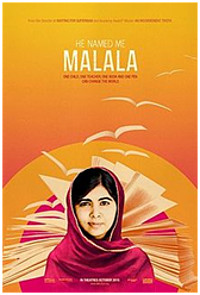 He Named Me Malala was shown at Landmark Cinemas 6 on December 9 as part of the Art Gallery of Hamilton's ilovefilmseries with community partner South Asian Heritage Association of Hamilton and Region.
The film is a powerful documentary about Malala Yousafzai, a Pakistani activist and the youngest-ever recipient of the Nobel Peace Prize. Malala is especially known for her advocacy in support of girls' access to education. She was born in 1997.
In October 2012, Malala was on a school bus in a north-west Pakistani region called Swat Valley where she lived and studied, even though the region's Taliban had at times banned girls from attending school.
A gunman suddenly boarded the bus and asked for her name. He pointed his gun at her, and then fired three shots, one of which hit the left side of Malala's face. Malala survived this attack, but she and her family had to flee their homeland.
Malala is also known for her visit to the U.S. White House in October 2013 when she told President Barack Obama that she was concerned that the U.S. drone attacks killed innocent victims and fuelled terrorism.
The documentary uses combinations of historical footage, recent interviews and vivid animation in order to provide introductions to several faucets of Malala's life. The result is a profoundly moving film.
At the beginning of the movie, animation is used to retell the story of the Afghani Pashtun folk hero, Malalai of Maiwand, who Malala is named after, and who rallied her people to a famous victory over British forces at the Battle of Maiwand in 1880.
Narrated almost entirely by Malala and her father, Ziauddin Yousafzai, the film features a father-daughter story. But the documentary is also about Malala's relations with her brothers and her mother, and about the family's relationships with their communities in the Swat Valley.
As such, the film does not explain in depth the surrounding political conflict or the geopolitics of the Taliban, because the film's focus is on Malala, her support for access to education, and her relations with her family.
More information about Taliban politics is presented in Malala's (2013) book called I Am Malala.
The main character in the documentary is Malala, and her presence and character are absolutely inspirational. She encourages all people, especially girls, to speak out for what they believe in. When talking about supporting girls' access to education, Malala says, "There is a moment when you have to choose whether to be silent or stand up."
The film is directed by An Inconvenient Truth's Davis Guggenheim, and is produced by Imagenation Abu Dhabi. Animation was created by Jason Carpenter of Carpenter Bros Animation, and Thomas Newman formed the film's impressive music soundtrack.
Post a Comment
You must be logged in to comment.