Power to the People
Cities are built for people, so why are Hamilton's citizens afraid to live it up a little?
By Jason Leach
Published April 14, 2005
This should become Hamilton's new motto. At least it should become the motto among those who are working towards making Hamilton a better place for people.
It really is amazing how we have built new suburbs and tried to ruin historic parts of our cities without the slightest thought of how it will impact our humanity. We're like robots, here to work on assembly lines for our entire lives, staring at the same machine or computer every day, then driving home, staring blankly at the back of the car in front of us.
Most of us work hard and earn our living to provide for ourselves and families. But does that mean our entire lives should revolve around email, TV and iPods? What happened to the Saturday morning stroll to the local market or coffee shop? What about window browsing in the evening or walking to the nearby patio for dinner and dessert with friends?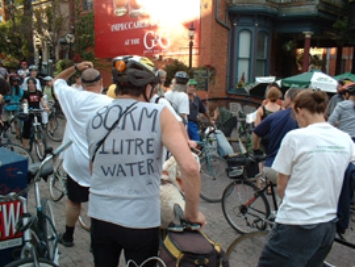 Critical Mass ride in Hess Village, 4th Friday of each month
Some say that "modern-day" people don't desire human interaction any more and are more than content to live in isolation forever. I disagree.
Check out Bayfront Park and the playground at Pier 4 on the next warm Saturday. I absolutely love hanging out here in summertime. The kids all run and play together and make new friends. Parents sitting by strike up conversations with other parents. And how about all those family picnics?
I am a huge fan of ethnic cuisine and am glad that Hamilton has the third largest ethnic population in Canada. Otherwise, our downtown and urban city areas might be completely void of any human life whatsoever. Folks from different parts of the world still seem to appreciate family time. They enjoy an afternoon with friends and strolling the parks and streets of their neighbourhoods.
Imagine how many empty shops, homes and parks Hamilton's urban core would have if not for wonderful immigrants working hard at making this city a better place? All us boring "white folk" are too scared to leave our living rooms and actually enjoy life. Guess what? There's more life to enjoy in Hamilton than you realize!
I think it's time for Hamilton's various neighbourhoods to put forth a proposal to city hall to begin the process of designating various neighbourhoods based on their predominant ethnic group.
Barton Street could likely have a Little Italy, Little Portugal, Little Asia and Little Poland just on the strip from James to Ottawa. Cannon is certainly ready to be designated an Asian Village. James North is already Little Portugal bordering Little Racalmuto.
Other areas could become Little India, Halaal Town, Croatian Village, an Arts Village and Theatre and Entertainment District. Imagine a city full of real neighbourhoods to complement our existing neighbourhoods such as Concession, Locke, Hess Village, International Village, King West, Jamesville, South Side (James and Augusta area), Westdale, Ottawa St and so on.
Jazz each one out with colourful banners, funky or historic looking lamp posts and street signs, public art, and murals depicting each culture on the sides of prominent buildings. Of course, make them pedestrian friendly; in other words, get the trucks out of the core and lose all the five-lane, one-way highways.
Head to Toronto some Saturday morning and pick a neighbourhood to observe - say, St Lawrence Market area or Chinatown. Take a good look and try not to get too envious: you're seeing real neighbourhoods in action. People stroll the streets and shop at local markets, chatting on café patios and letting the strain of the week just wash away - they don't drive to ugly big box stores.
Here in Hamilton, many people live their weekend lives in the same fashion as their weekday lives - driving in their car, yelling at nobody, talking to nobody, becoming more isolated from the fabric of our great city.
I was pleased to read on the city's website about a program offered by the city meant to encourage "a culture of walking in Hamilton." We need it! Also, check out Healthy Living Hamilton to read more about the city's plan to get us active and walking our neighbourhood streets again.
Think of the worlds best cities - Montreal, New York, Paris. Visitors don't leave saying, "I would hate to live there. There were just too many people walking the streets, shopping, having lunch, enjoying art and gardens." We all keep forking out tens of thousands of dollars to visit these places. Well, why don't we bring that same quality of life to our own city?
As in many cases, the city needs to do more than just have a website and offer a good price on pedometers. They need to invest in making this city walkable again. Dundurn South, King West, Main Street, James and John South, King East.
There are so many neighbourhoods that this city could have. Instead we've got rundown shells of old neighbourhoods that many of us look at as blight instead of seeing the future that could be.
King and Main should be full of pedestrians from Westdale to Ottawa St. Different ethnic enclaves, antique districts, art districts, nightlife districts. The list goes on and on. See Queen Street or King Street in Toronto for an example.
A new website for Locke South says "Walk the Locke." I say "Walk the City." Downtown, West End, East End. Let's get out of cars and TV rooms and enjoy our city again.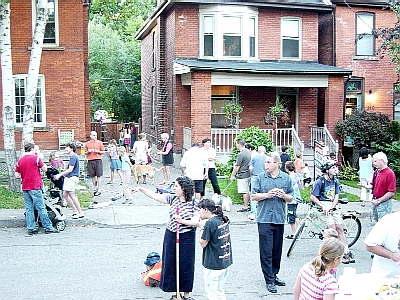 Kent Street Party, September 2004
Get your neighbourhood association to help organize an annual street party. Contact the mayor and your councilor and get them to officially endorse and sponsor World Car Free Day.
Hamilton Indymedia has a summary of last year's Car-Free week activities. Hamilton city council could show its commitment to sustainability by officially supporting World Car-Free day, as a number of other cities have done. They could ease the process for street closures and promote the event.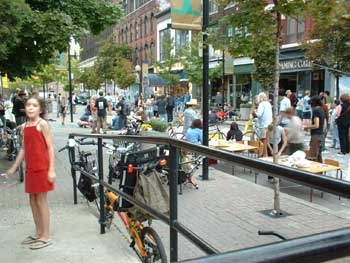 Hamilton Car Free Day, King William St., 2004
It's time for Hamiltonians to take back their city. Don't settle for always having to leave town in order to have a good time. Put on your walking shoes, grab a bike, check out the bus schedule for your area and help bring life back to our city's streets and businesses.
Your money goes so much futher when you support local businesses and local shop owners instead of some rich guy in New York or L.A. who could care less about Hamilton and obviously isn't spending his income in Hamilton.
Don't always rely on city council to do the right thing. Power to the People! We are the lifeblood of this city.
Post a Comment
You must be logged in to comment.