Supercrawl and the Newsworthy Outlier
By Ryan McGreal
Published September 27, 2010
Bruce Schneier, the well-known American security expert, wrote an essay in 2005 on the question of whether and how the news media should report incidents of terrorism. One passage in particular jumps out:
One of the things I routinely tell people is that if it's in the news, don't worry about it. By definition, "news" means that it hardly ever happens. If a risk is in the news, then it's probably not worth worrying about. When something is no longer reported - automobile deaths, domestic violence - when it's so common that it's not news, then you should start worrying.
It was with this sentiment in mind that I read today's Spectator report on last Saturday's Supercrawl, in which the journalist managed to find the only person on James Street who didn't have a great time.
Ventura's Signature Restaurant's owner, Virgilio Ventura, said the monthly art crawls have been bad for business.

On average, Ventura makes about $1,500 Friday nights. On art crawl nights, he barely makes $200. And his regular customers also don't come out on art crawl days because there's no parking available, he said.

Ventura's restaurant was relatively empty during Supercrawl. "People eat food (they buy) on the street," he said. "Today, there's nobody. (Saturday) is the day I make money."
I've argued in the past that balance is a false journalistic value. It is misleading to give two sides of an argument equal weight if the weight of actual evidence is unequal. If one group of people believes the earth is round and another believes the earth is flat, the correct approach is not to report: "Opinions differ as to the shape of the earth."
However, as Schneier notes, the practice of journalism is the practice of reporting outliers. A story, by definition, is something unusual enough that it's worth noting. If 19,999 people loved the Supercrawl and one person hated it, that one outlier is inevitably going to attract disproportionate attention.
So here are a few shots of non-outliers at Supercrawl. Warning: it may not be newsworthy to point out that these people had a good time.

Non-outliers at Supercrawl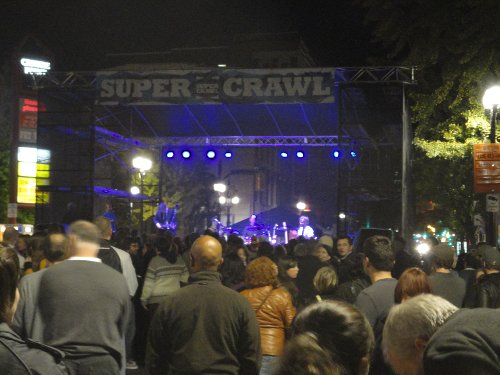 People having an unremarkably good time listening to Elliot Brood

A police officer not required to fend off angry protesters outside the Mulberry Street Coffeehouse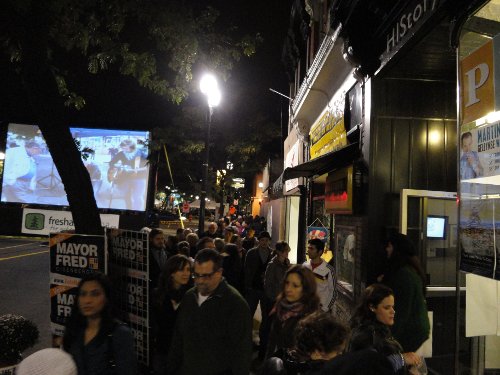 Somebody needed to tell these people they were allowed to walk on the street

These party-goers are not too surprised to kick it old school with Cadence Weapon and DJ Co-op
Post a Comment
You must be logged in to comment.