Album Review: "Time in Between" by Paisley Jura
By Ryan McGreal
Published January 21, 2009
On debut EP Time In between, scheduled for release on January 27, 2009, singer-songwriter Paisley Jura blends jazz and folk to produce sweet, subtle, intricate songs that tell stories in bright, visual language about loneliness and the struggle to relate.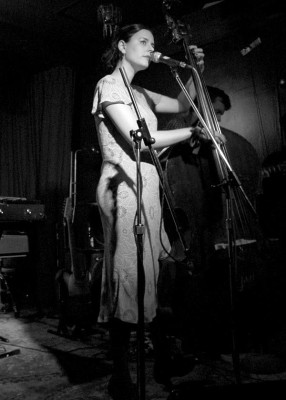 Paisley Jura plays live at Mitzi's Sister (Photo credit: Paul Day)
Drawing on an impressive roster of acclaimed supporting musicians, Jura has created a subtle, melodic, detailed collection of poignant vignettes that grows steadily with each listen, revealing its deep intricacy layer by layer.
Unlike the bombastic pop I've been enjoying lately, Time In Between deserves a careful listen in a quiet setting to appreciate its charms. Blaring it in the car while running errands does this album no justice.
Jura is at her best when she sings more forcefully. She has a great voice - disciplined, smooth and silky - and it benefits from prominence within the musical framework - especially as the music carries so many nuances among the well-chosen and -blended instruments.
The recording itself is very intimate and visceral. You can hear Jura's fingers slide along the strings of her double bass, the click of piano keys, the sibilant intake of breath before singing a verse.
It opens with "Forgotten Ones", an atmospheric piece that recalls Stevie Wonder's magical classic "I Believe" with its shimmering, flange-tinged guitar melodies and steadily building intensity. Like most of her songs, it captures small moments in rich detail: "Jimmy sits at his tray / Folds his napkin and measures the space / With practiced eye, he places fork / And spoon at 90 degrees."
"Timing" is a gentle piano waltz with a surprisingly discordant chord progression that sweetens just in time for the maudlin chorus: "And a good song is just timing, you said / If I wait for timing to come I'll be dead / We are victims of circumstance / And the timing is off, it's a one-legged dance."
"Looking for Something" is a highlight with mainstream radio appeal that finds the intersection between jazz and country-flavoured Canrock, aided by the thread of Robert Carli's whimsical clarinet woven throughout.
It alights here and there on the stories of its characters - "Soldier on a dusty road / He reaches out and lifts the child to his arms / And as she lays her hand in his / He closes his eyes, he's back with the child he left behind" - only to land on the narrator herself: "The darkness settles all around me now / Filling up space like the water fills the lake."
The delightfully autonymous "Sweetness", a lament for the longing, comes in two versions: the 'video mix', an upbeat, old-timey bluegrass piece featuring banjo and accordion; and the goosebumpy 'studio mix', a more melancholy rendition propelled by keyboard and slow, driving bass line.
The former was Jura's vision and the latter was her producer's. They liked each version so much that they decided to include both. As Jura explains, "The idea of 'time frees all of us' can be sung with an arms-around-your-buddies, down-home feel or with a spacey, look-inside-yourself open beauty. It still rings true."
There are no real low points in this EP. Even "Long Black Veil", the slowest and mellowest track, rolls with a haunting, restrained malice.
Summary: take the time to immerse yourself in this EP. I was almost ready to dismiss it as a confection after my first pass-through, and I'm really glad I didn't. It grows more rewarding with each listen.
You can listen to a selection of tracks from Time In Between on Jura's MySpace page:
Paisley Jura plays at the Casbah on February 3, 2009.
Post a Comment
You must be logged in to comment.