A Window on the Lister Deal
By Trey Shaughnessy
Published July 08, 2008
Joe Rinaldo is the acting city manager. He agreed to a brief interview with Trevor Shaw to answer some questions about the recent Lister Block deal with Laborers International Union of North America (LIUNA).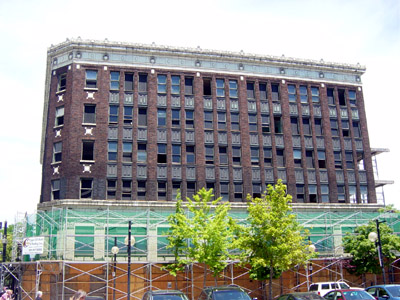 Lister Building
Interview with Joe Rinaldo
Trevor Shaw, Raise the Hammer: How much of the $25 million is purchase price and how much is renovation costs?
Joe Rinaldo, City of Hamilton: LIUNA included $2 Million for the cost of the property. The balance is for the Rehabilatation.
RTH: Will there be a complete restoration of the interior mall and retail use on the ground floor?
JR: Yes The original mall will be fully rehabilatated. The use of the ground floor will likely be a combination of retail and office space. The split will be determined by Council as we near construction completion.
RTH: Is there any concern about the Right House losing its last major tennant? Will we be having this same discussion in 15 years with a vacant Right House?
JR: while a final decision on which staff are going to be relocated, it is likely that some of the staff will be relocated from the Right House. Since the Right house is not designated as a Heritage facility, the city would not step in if they cannot lease the vacated space.
RTH: Is there a timeline when it has to be finished?
JR: The completion date is no later than March 15, 2011
RTH: Will roll-up awnings be installed over the sidewalk?
JR: Awnings are not contemplated at this time.
RTH: I'd like to point out for your information, a recently completed renovation in Lansing Michigan that is similar to the Lister situation, "Hollister Building". That used Historic Preservation Tax Credits.
JR: Tax credits for heritage buildings are not being provided by the federal and provincial governments. The city does provide grants for heritage designated buildings.
Post a Comment
You must be logged in to comment.