Henderson Hospital and El Mirador
Cranes can be spotted in two locations on the mountain: Concession Street and Upper Gage and Fennel.
By Trey Shaughnessy
Published January 08, 2009
Editor's note: this article was actually posted on January 9, 2008.
Henderson Hospital
Construction is well underway on Concession Street at the Henderson Hospital. Originally built in 1917 for Great War veterans it was known at the Mount Hamilton Hospital. In 1954 the Hospital expanded and was renamed Henderson Hospital.
Three 1950s wings were demolished to make way for a new emergency department, operating rooms, imaging rooms and an intensive care unit. The 400,000 square-foot addition, designed by Zeidler Partners and Hamilton's Garwood-Jones & Hanham Architects and constructed by EllisDon, will be completed in 2012.
Trevor Garwood-Jones also designed some local Brutalist-styled buildings, notably the Central Library and Hamilton Place.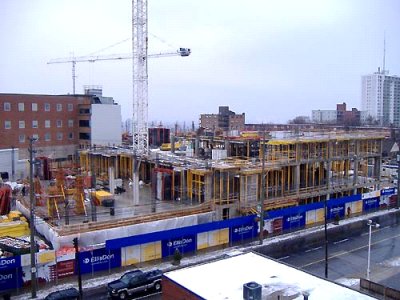 New addition construction site

Henderson Hospital cranes

Concession Street looking west from Henderson Hospital

Rendering of finished addition
El Mirador
Hamilton Mountain's tallest building, the El Mirador, on the corner of Upper Gage and Fennell recently had the north-facing balconies enclosed to create more indoor space. The 21-floor residential building now has a more modern-looking appearance.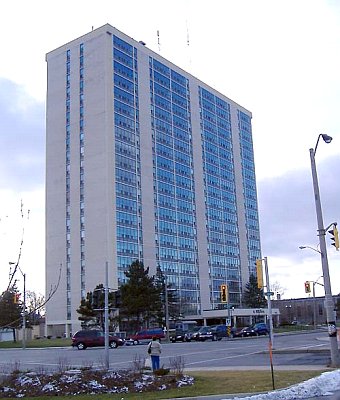 North-facing enclosed balconies

South-side open balconies
Post a Comment
You must be logged in to comment.